Discover our 18th century guesthouse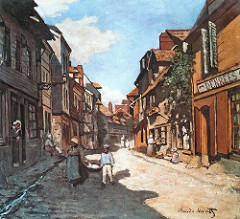 … and its cottage.
Enjoy the relaxing greenery of peace haven, minutes away from the historic medieval town center and its typical harbour, testimony of its maritime history.
Honfleur, rich in emotions, is conducive to strolls and a good starting point for excursions in the region.
Honfleur, city of painters
Rich lights and changing colors of the norman sky inspired Courbet, Monet, Boudin and many other famous artists.
Honfleur impresses so much that it has been represented many times by various artists with different points of view.
An ancient slate-colored town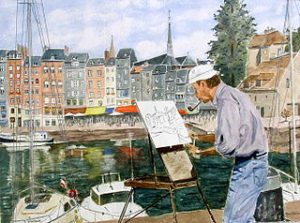 Honfleur, medieval sailing city, is particularly well-known for its scenic old port (Vieux Bassin), its ancient city, its cobbled streets and its slate-covered houses with half-timbered facades.
Let yourself be carried away into Middle-Age to the bend of back alleys !
Its legendary port
Both maritime and fluvial, Honfleur is definitely sea-oriented with its differents harbours : fishing port, marina, port of call (renowned for its Vieux Gréements, antique sailing vessels) and of course its cargo port. Many events celebrate sailing and seamen year-round.
Enter a territory where shipowners, traders and privateers used to meet !
Discover Honfleur's treasures
Take your time to visit on foot this town of art and history, over a 1000 years old, and its exceptional heritage :
Le Faubourg Saint-Léonard
Le Faubourg Sainte-Catherine
Le quartier de l'Enclos
Le vieux bassin et la Lieutenance
La Forge
La Maison de Satie
Le Blockhaus
Le Musée de la Marine
Le Musée Eugène Boudin
Le Musée d'Ethnographie
Le Naturospace