Norman bedrooms looking out on the park
We offer you three spacious bedrooms and two suites, neatly decorated in the purest norman tradition. Access to your bedroom is possible at anytime.
The bedrooms are situated in the main building, called "the big house" : it's entirely dedicated to our guests. The bedrooms overlook a hundred-year-old park,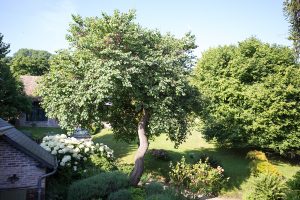 full of trees and blooming with flowers, overhung by a magnificent araucaria.
Private bathrooms blend in perfectly in this refined decor, while sacrificing nothing in terms of modernity.
La Maison du Parc will let you dive into an authentically chic and charming atmosphere, perfect for a change of scene and a blissful relaxation, while enjoying the cultural and recreational activities of the historic town only a few minutes away on foot.